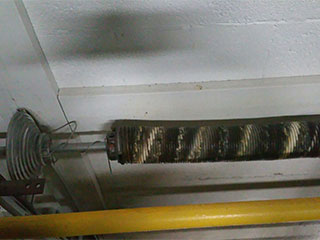 Few homeowners pay any attention to their garage door as long as it continues to work, and even fewer have any interest in looking after the mechanisms that makes it tick. However, problems that affect your garage door can have a big impact on your daily routine; being unable to park your car (or worse, being unable to get it out of your garage) is disruptive and extremely annoying. It's always best to prevent these problems before they take place. Luckily for you, it's easy to do so – our professional technicians can take care of any problem you may encounter, and we are particularly efficient when it comes to some of the most crucial components of these systems.
That's right, we're talking about – the springs.
Looking After Your Springs
The springs in your garage door do all the heavy lifting; they carry the weight of the entire door every time it opens or shuts, and because of that they are put under enormous amounts of tension each day. Unsurprisingly, these components have a finite lifespan, and eventually wear out. It's essential that you keep an eye on them and watch for any signs of degradation; noisy operation or an inability to properly hold your door's weight are a few glaring signs of imminent failure, and should be a handled by our trained professionals.
Replacing Your Springs Before They Snap
Don't be tempted to wait and see what happens, because a complete failure of your springs can be hazardous; as when a spring gives out it will force the door to drop, and the sudden release of tension can make it go whipping around and potentially injuring anyone in the vicinity.
Call Us Today!
Just like many doctors can tell you, prevention is better than the cure, and it's essential that you contact our Garage Door Repair Portland team as soon as your springs show any signs of weakening; repair and replacement of these parts can be dangerous, and should only be carried out by trained technicians.
Looking for more? We also offer:
Opener Sensor Repair & Replacement
Galvanized Torsion Spring Installation
Garage Door Off Track Repair