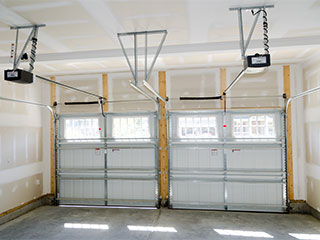 The most complicated machine in your overhead door system is the opener. This unit is responsible for the automatic functioning of your door, and like any complex electro-mechanical system there's a lot of potential for problems to develop over time. Wires can be broken, gears can break, and circuit boards can falter, among other issues. Our technicians know how to handle all this and more - if necessary, we can also install a brand new replacement unit.
We Keep Your System Working
The only way to keep your opener system working smoothly and reliably is regular maintenance. Our technicians check each and every component from the trolley to the safety sensors for signs of wear, damage and corrosion. This approach helps you catch problems before they become serious and decreases the chance that dangerous accidents occur. Regular maintenance will also help to save you from the stress and expense of a completely broken garage door.
Which Type Is Right For Me?
There are several different types of opener system on the market today, each of which is suited to different purposes. Belt drives are smooth and quiet, while screw drives require very little in the way of preventative maintenance. They're both more expensive than chain drives, which are affordable and durable if a little noisy. Our technicians will help you to choose the right unit for your garage.
Special Additional Features
Plenty of modern openers come with extra security and convenience features, such as the Chamberlain "MyQ" system. Their WiFi-enabled units connect to your home's network, allowing you to open and close the door remotely from your smartphone. Perfect if you need to let someone in while you're away, or you forgot to shut it on your way to work. Other brands like Genie and LiftMaster have introduced features like rolling codes that make it harder for thieves to break into your home. Some units also come with convenience features like automatic lighting.
Contact Us Today
Are you in need of an emergency opener repair, or are you looking for some professional maintenance services? We're the team for the job - contact Garage Door Repair Portland today to find out what we can do for you.
But wait, there's more! We also offer:
Maintenance Garage Door Torsion Spring
Door Opener Troubleshooting Services
Broken Garage Door Spring Replacement
Broken Garage Door Track Repair