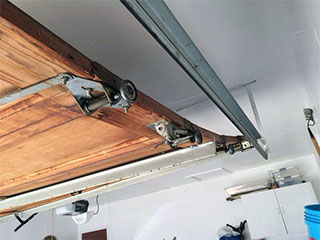 Would it be weird if we asked if you have any idea why cars have wheels? You can imagine how difficult it would be push a car without wheels. Garage door rollers serve the same function that wheels serve in cars or bikes: to move a very heavy object from point A to B with ease.
Rollers are those little wheels found at the edges of your garage door that are attached to brackets fastened to it. They have little ball bearings which help them turn with ease as they run up and down along the tracks. Rollers do most of the work and so this makes it imperative that you check them regularly to ensure that they in top condition.
Type of Garage Door Rollers
Metal rollers are actually crafted with steel and they are fastened to metal tubes in such a way that enables them "roll" freely in their tracks. They are very tough and last longer than their counterparts, and are cheaper too.
Well, they have a drawback: they are a lot noisier and generate more vibrations than their nylon counterpart, and are more prone to rust. They should be lubricated frequently to keep them in good condition.
Well, nylon rollers are made of nylon. The same nylon used for food containers, brush brittles, etc. only this time it is made to be a lot tougher than in the aforementioned products. Nylon rollers are a real gem as they do not need lubrication on a frequent basis. Given the structure of nylon itself, these rollers absorb shock better which makes them much quieter in operation than metal rollers. Though they are more expensive but they are worth the extra bucks.
As was stated in the beginning, rollers do more work than other components of your garage door and so it's recommended that you inspect them for damage from time to time. Try to lubricate them as often as necessary, especially steel rollers; otherwise they'll grow noisier by the day. If you notice any signs of damage like excess vibrations as the door operates, wear, fracture, or even a crack on your rollers get them replaced as soon as possible in order to stave off something worse.